It's Super Bowl time and people have asked for some recipes for the big day…so we will gladly post a few.We call this one Nitro BBQ Sauce, no real reason it just sounds good. This is a great sweet BBQ sauce that gets it's nice acidic zing from lemon juice. It is really easy to make and you should mix up a batch for your pary or take some to the party you are going to. BBQ sauce is a great thing to give the host and this will beat whatever store bought crap they have.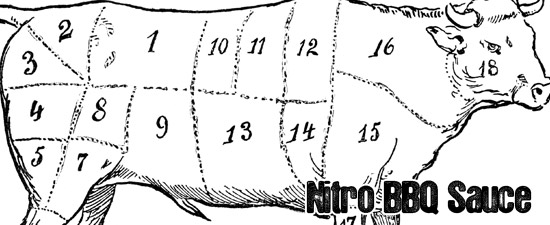 Travis' Nitro BBQ Sauce
8oz can of Tomato Sauce [I use El Pato brand]
1 cup Ketchup
1/2 cup Brown Sugar
2 1/2 T Worchester Sauce
1/4 Lemon Juice
1 tsp Garlic Powder
1 tsp Onion Powder
1/2 tsp Cumin
2 tsp Red Pepper Flakes [or more if you want to zip it up]
1 tsp Black Pepper
2 T Bourbon
Combine all ingredients. Bring to boil and reduce heat to lowest setting and continue to heat until slightly thickened. It should take about 15 minutes. Use right away or let cool and store for up to two weeks in a sealed container.