I have 4 different jerk recipes I use for meat. I like this one when cooking for a bunch of people who may not all be adventurous eaters. This is pretty straight up flavor-wise and tastes great! Jerk seasoning is a Jamaican thing but I have enjoyed it throughout the Caribbean. This recipe was passed along to me from a Jamaican I met in Puerto Rico. I love it.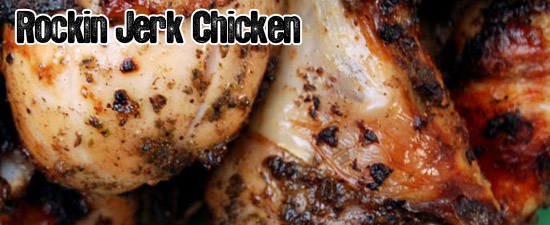 ROCKIN' JERK CHICKEN
5 fresh Habanero chiles, stemmed and seeded
5 large Garlic cloves, peeled and chopped
3 Scallions, chopped
1 White Onion, roughly chopped
1/4 cup fresh Lime Juice
3 T Olive Oil
2 T Soy Sauce
1 1/2 T Kosher Salt
1 T packed Brown Sugar
1 T fresh Thyme Leaves
2 tsp ground Allspice
2 tsp Black Pepper
1 tsp ground Nutmeg
1 tsp Cinnamon
2 chickens, quartered
or
A couple pounds of assorted pieces of chicken. You can use pre cut up pieces or even boneless pieces. If you use breasts, pound them out to an even thickness.
DIRECTIONS:
1 – Place all the marinade ingredients into the blender and process until smooth.
2 – Place the chicken into 2 large Ziploc bags. Pour 1/2 of the marinade into each bag. Seal bags and press out as much air as possible. Refrigerate 24 hours.
3 – Remove chicken from the refrigerator and allow to come to room temperature. Set up a two zone fire. Do this by putting all the charcoal on one side only or if you are using a gas grill only light one side.
4 – Place the chicken on the hot side of the grill and cook until well browned on all sides. Move the chicken to the cooler side of the grill and cover.
5 – Continue to cook until chicken until it is cooked all the way through, 20-30 minutes and 165 degrees.
6 – Remove the chicken from grill, allow to cool for 5 minutes, and serve.