They might not be considered 'fine dining' but I would take a well made corn dog over much of what I have eaten that has been called 'fine dining'. The corn dog has been around a long time and there is a reason for it…they are awesome! Here is my appetizer take on a classic. I break a lot of my rules on this one. They are easy and we let someone else do some of the work.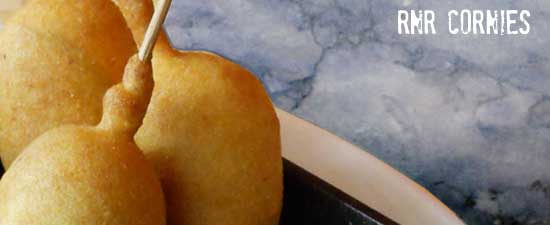 ROCK AND ROLL BBQ'S CORNIES
6-8 Precooked Chicken Sausages, cut in half
1/2 cup plus 3 T all-purpose Flour, divided
8 cups Canola Oil
1 1/2 cup Cornmeal
1 1/2 tsp Baking Powder
1 tsp Sugar
1 tsp Granulated Garlic
1 tsp Granualted Onion
1/2 tsp Baking Soda
1/2 tsp or so of Cayenne
2 Eggs
1 1/3 cup Buttermilk
1. Put 3 T of flour on a plate.
2. Insert a skewer into each sausage piece.
3. Roll sausages in the flour to coat, shake off the excess flour.
4. Heat the oil to 350 in a pot over medium-high heat.
5. While this is heating up whisk together Cornmeal, 1/2 cup Flour, 2 T Canola Oil, Baking Powder, Sugar, Baking Soda, Cayenne, Garlic, Onion, and 3/4 tsp Salt in a bowl.
6. Add eggs and whisk really well. Whisk in Buttermilk really well. Make the batter smooth and awesome.
7. Transfer some of the batter to a cup and fill it almost to the top. Dip three dogs into batter [one at a time] into the glass and coat.
8. Fry! Turn occasionally until the batter is cooked through and golden-brown all over [3 minutes-ish].
9. Transfer corn dogs to paper towels to drain off excess oil.
10. Refill the glass and repeat all steps until all dogs have been rocked out.
11. That is it! Easy as pie and delicious. Enjoy!