"Nam Prik Dang" is fun to say and I have no idea what it translates as, it must be something like "Awesome Sauce". Thai flavors are my favorite of the all the Asian cuisines. I love the bright and sharp notes they like to bring out. This sauce works great with many things, I love it on fish, rice, or my finger. If you wonder how to make that tasty sauce they bring to your table at your local Thai restaurant here is one gringos take on it.
Nam Prik Dang
24 Thai red chili peppers, sliced thin. You can use green too if you like but red have a sweeter flavor.
2 Cloves Minced Garlic
2 T Brown Sugar
3 T Fish Sauce
4 T Fresh Lime Juice plus a little tiny bit of zest/
You can salt to taste but the Fish Sauce delivers the saltiness you need
Mix everything in your blender and throw it in the fridge until you need it.
OK, so maybe that isn't your thing and you like the sweet chili sauce from the store or the kind more commonly found at fast food Asian restaurants. Try this!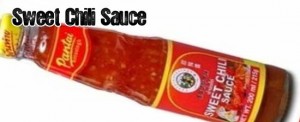 Sweet Chili Sauce
1 1/2 cups of Sugar
1/2 cup Rice Vinegar
1/2 cup of Water
12 cloves of minced Garlic
1 T Crushed Red Pepper Flakes
1 tsp ground Ginger
1 T Sriracha
2 T Cornstarch
2 T Cold Water
1 tsp Salt
Add the first bit of water, rice vinegar, and sugar to a sauce pan over medium-high heat. As soon as the mixtures starts to boil add the garlic, ginger, and red pepper flakes. Immediately set the pan to simmer and let it go for another five minutes. Add the Sriracha.
In a small bowl, mix the cornstarch and 2 T of cold water and dissolve the cornstarch.
Bring the sauce to a slow boil again and add the cornstarch mixture slowly while stirring constantly and then add the salt.
The sauce will start to thicken up right away. Stir constantly until the mixture reaches desired thickness. The will take anywhere between 2-5 minutes. I like it thick so I let it go longer.
Let the sauce cool and then put it in the fridge. Use it as a sauce for dipping egg rolls, shrimp, or chicken skewers.