I have never been a huge fan of Guinness. I find stout beers too heavy and the pay off is a ABV [alcohol by volune] of less than 5%. It pretty much is the same as Leinenkugels which in this professionals opinion is far superior. What I have found these heavy beers work for is cooking. If you cook down 3 pints of Guinness you can make a great base for ice cream and it lends itself well to things like cupcakes as well. I don't eat much ice cream or cupcakes but I do enjoy BBQ sauce and I am always experimenting and looking for a new recipes to put into production. Here is a recipe that is well on it's way to consideration for bottling.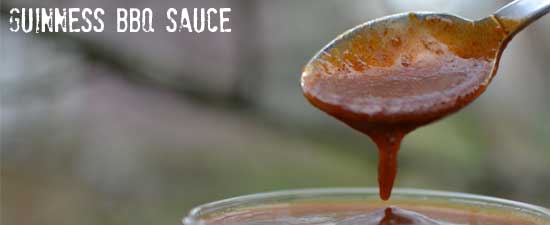 Guinness BBQ Sauce
2 T Vegetable Oil
1 medium White Onion, fine dice
1 15oz can Tomato Sauce
12 oz Guinness
1/4 cup Black Strap Molasses
1/4 cup Apple Cider Vinegar
1 T Brown Sugar
1 T Dijon Mustard
1T Worcestershire Sauce
1/2 T Kosher Salt [check the flavor, the kind of tomato sauce you use could leave you wanting more]
1/2 T Freshly Ground Black Pepper
2 tsp hot sauce or Red Pepper Flakes or Cayenne Pepper
1 tsp granulated Garlic
1 tsp granulated Onion
1. Heat the oil in a saucepan over medium/high heat. When it is hot add the onion and cook until softened, 6-8 minutes.
2. Add the tomato sauce, beer, molasses, mustard, vinegar, brown sugar, Worcestershire sauce, salt, pepper, hot sauce, garlic, and onion. Bring the mixture to a boil and then reduce to simmer. Reduce the sauce slowly for 30 to 45 minutes until it thickens up nicely, make sure to stir it every now and then so it doesn't stick or burn.
3. Check the flavor and add salt/or pepper as necessary.
4. Put the sauce to a blender and puree until very smooth. BE VERY CAREFUL! Hot stuff in a blender will fly all over your kitchen. Start on slow and gradually increase the speed or let it cool a bit first. If you just can't wait throw a hand towel over the top of the blender just in case.
5. If the sauce is too thin, remember it will thicken as it cools. If it is too thin for you liking at this point put it in the sauce pan and reduce it some more. I run the sauce through a fine mesh strainer using a spatula to get an even consistency
6. This sauce will keep in the fridge for a few weeks.
Great for all kinds of meat!