I made these on a morning news programs. You can't go wrong with this simple taco recipe.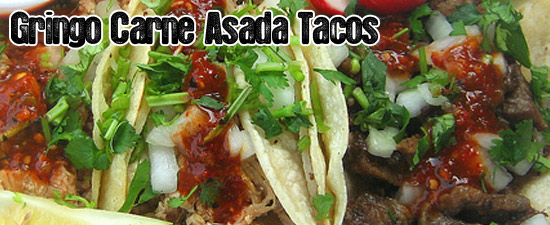 GRINGO CARNE ASADA TACOS
1 Flank or skirt steak
2 cloves garlic, peeled
1/3 cup packed fresh cilantro leaves
1/2 cup lager-style beer
Grated zest of 1 lime
1/4 cup fresh lime juice
1/4 extra-virgin olive oil
1 tablespoon chili powder [Chile de Arbol]
1 teaspoon ground cumin
1 teaspoon dried oregano
1/4 teaspoon ground chipotle chili or cayenne pepper
1/2 teaspoon salt
Blend all the marinade ingredients. You will have about 1-1/2 cups marinade. This recipe is enough for 1 steak at about 1.5 to 2lbs. Adjust accordingly.
Put steak and marinade in a large, locking plastic bag and squeeze out as much air as possible.
Refrigerate for 24 hours Turn and jostle occasionally for best results.
Remove the steak from the refrigerator about 1 hour before grilling.
Remove the steak from marinade and let excess drop off. Discard the marinade.
Put the steak over a hot grill and grill until browned, about 4 minutes. Roatate 90 degrees after 2 minutes of cooking if you want cross-hatching on the steak. Flip the steak and grill another 4 minutes for medium rare.
Let steak rest 5 minutes, then slice against the grain into 1/4-inch slices.
Serve on warmed corn tortillas with some onion/cilantro/lime relish, salsa, and cojita cheese on top. Warm the tortillas on the grill or in a cast iron pan until pliable. Use a microwave as a last resort. You want a little scorch or these puppies.
RELISH RECIPE
1 small white onion, finely minced
1/2 cup chopped fresh cilantro
1 teaspoon salt
Juice from 1 lime
Mix it all up and chill it.