I have spent a bunch of time down in the Caribbean and this doesn't totally honor the traditions of that amazing place but it does a great job of reinforcing the great flavors and still keeps it pretty healthy. Eating, wandering, and MX riding down there were some of the most memorable times I have ever had on my own. If my girlfriend would agree to move there you would never see me again!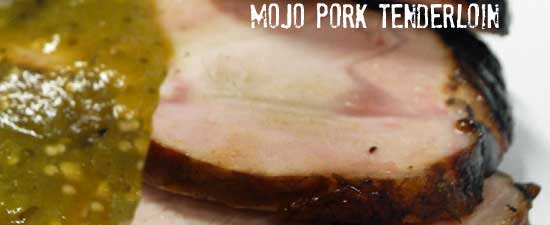 Mojo Pork Tenderloin
2-3 pound pork tenderloin
4 large sweet onions
MARINADE:
1/2 cup olive oil
8 garlic cloves, mince
1/4 cup chopped cilantro
1/2 cup fresh lime juice
1/2 cup fresh orange juice
1/3 cup water
1 1/2 tsp kosher salt
1 1/2 tsp freshly ground black pepper
1 tsp cumin
1/2 teaspoon dried oregano
DIRECTIONS:
Marinade…
-In a pan heat the olive oil, garlic, and cumin. Let the mixure simmer for 2-3 minutes.
-Stir in the remaining ingredients [other than the cilantro] and bring to a boil. Immediately remove the pan from the heat and stir in the cilantro after 20 minutes.
-Pour marinade in a large Ziploc bag and add the pork. Push out the air and marinate in your fridge for 24 hours.
Pork…
-After 24 hours go ahead and remove the pork from marinade and reserve marinade for later use.
-Preheat the grill to high heat. When your grill is heated up turn one burner off.
-Sear the tenderloin on all sides.
-Once you have some good color on the tenderloin put it over the area of your grill that has the burner off or if you don't have that option go to the top rack with it. Let it sit there until it comes to a temp of medium rare. The very inside of the tenderloin should be pink, YES PINK. If it's not a little pink you over cooked it. You are looking for a center temp of 145. I cook mine less but the government says 145 is proper. This technique could take 14 minutes to 25 minutes depending on your grill. In a big old Viking with 5 burners it's 14 minutes and on the top rack of a Charbroil Home Depot special it could be 10 minutes longer.
Onions…
Slice the onions into thick slices and spray with a little bit of oil. Grill onions when the pork is almost done so that they finish at the same time. Grill for around 5 minutes per side over direct heat while the pork in finishing, so start while your pork is slow cooking!
Sauce…Take remaining marinade and bring it to a boil in a sauce pan. Immediately reduce the heat to low and let it simmer for 6-8 minutes to thicken.
Once you pull the pork off the grill let it rest for at least 8 minutes before slicing! This is essential friends. Slice the pork into 1/2 inch slices and lay out nicely on a platter. Pour a line of sauce down the middle of your tenderloin…make it pretty. You can garnish with citrus or fresh cilantro. This is a bright flavor, use a white platter and colorful fruit.