I recently…wait, first…sorry for the lack of posts lately.
OK, back to the goodies. I recently handled the drink menu and service for a nice party in Telluride. I had a ton of fun and when I was heading back home the party planner gave me a bunch of cheeses and charcuterie to take back to the desert. She gave me a monster block of awesome gouda and since I was only home for a little bit I was kind of in a rush to use this gouda and do justice to it. I think I will buy some more and use this recipe for the opening weekend of football.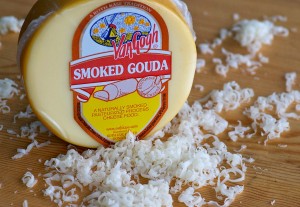 You Will Need:
16oz large elbow macaroni. Cook it, rinse it, and drain it
5 T Butter
18 oz cup 1% Milk
1/2 cup Flour
10 oz Heavy Cream
2 tsp Kosher Salt
2 tsp ground Black Pepper
1 tsp Dry Mustard
2 tsp Worcestershire
Hot Sauce to taste. I like to use a bunch. 1 T is pretty safe if it isn't too spicy and your friends are wimps
1lb Smoked Gouda Cheese, shred it [I didn't use the stuff pictured but I am sure it works]
1/2 lb Sharp Cheddar Cheese, shred it
2 cups Panko Bread Crumbs
3 T butter, melted [for topping]
1/2 cup Bacon. Cooked and crumbled [Optional]
Instructions:
Follow the directions on the noodles. Cook them. Rinse them. Set aside.
In large pan melt the butter over medium high heat. Add the milk and heat until almost boiling. Reduce heat to medium and slowly sprinkle in flour.
Whisk constantly over medium heat for 1-2 minutes. The mixture will thicken and that's when you know you are succeeding.
Slowly add the cream while whisking the thickening mixture.
Add the salt, pepper, mustard, hot sauce, and worcestershire sauce. Lower the heat and continue to whisk for around 5 minutes.
Add your cheeses and whisk while it melts.
Add cooked macaroni to cheese mixture and pour it into a 13×9 buttered dish.
Add melted butter to 2 cups of panko bread crumbs. Stir ip up real good and use this to top you mac and cheese before baking. Sometimes I skip the topping but people seem to enjoy it. Sprinkle the bacon on top if you are using it…and you should. Alternately, you can mix the bacon into the cheese mixture before topping which is awesome too.
Bake your mac and cheese uncovered at 375 for 25-30 minutes.