I love wings. I love wings so much that one time I flew to Buffalo just to eat them at the Anchor Bar where they were invented. I am not kidding. That my friends is love!
There is a lot to love about wings. The heat, the texture, the fatty goo, and so much more. It is definitely animal style eating. They are great deep fried, smoked, or grilled. Some jerks even bake them…I don't know why, but they do.
In this recipe I tried to take the great taste of one of my favorite things and adapt it into one of my other favorite things…DIP!
This is a super duper easy dip to make and it might just be appropriate for your playoff party this weekend. If you don't know what playoffs I am talking about I am saddened by your anti American way of life.
Here is a picture of the glorious birthplace of the Buffalo Wing.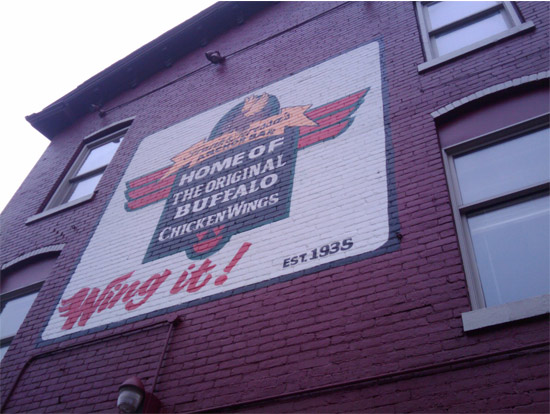 BEER N' BUFFALO DIP
Get This…
2 T Olive Oil
3 Boneless Skinless Chicken Thighs, cut into small little pieces [Thighs are WAY better than breasts in this case]
8 oz Sour Cream
16 oz Cream Cheese, softened
1 ½ cups shredded Parmesan cheese
1/3 cup Texas Pete Hot Sauce [Franks Red Hot Sauce will work as well]
2/3 cup Pabst or another lighter beer of your choice. Don't use a dark beer.
2 tsp Garlic Powder
1 tsp Onion Powder
1 tsp Black Pepper
2 T Cornstarch
½ cup Shredded Mozzarella
½ cup Blue Cheese crumbles
Some green garnish of your choice. Parsley or cilantro work best
Now Do This… 
Start by preheating your oven to 350
Heat olive oil in a pan over medium to high heat, add the chicken and cook it until it is done and has browned a bit. This should take around 6 minutes.
In your blender, food processor, or with a mixer combine the sour cream, cream cheese, Parmesan, Texas Pete's, beer, garlic and onion powder, black pepper, and cornstarch. Let it spin around until it is one cohesive mixture. About 3 minutes should be good but go longer if needed.
Pour this luxurious goo into an baking dish.
Now stir in chicken and sprinkle the top with your mozzarella.
Bake until the cheese is starting to bubble and it's warm throughout. 15-20 minutes.
Remove the dish from your oven and sprinkle with blue cheese crumbles and garnish.
Serve right away with chips.