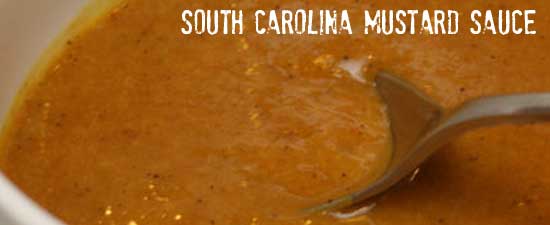 My favorite kind of BBQ is Carolina Style. In the North they really like red sauces but in the South they like a vinegary mustard sauce. I feel like mustard makes the flavor of pork really shine. I use mustard as a glue for all my rubs when I am BBQ'in. When I say "Mustard" I mean the cheapest yellow mustard you can find. I use the cheapest white bread for sandwiches too, not because I am frugal, but because I like tradition and I like things tasting the way they are supposed to taste.
This recipe is my base. Depending on the crowd or the occasion I customize this sauce to give it a little more character. Either top your pulled pork with this sauce or toss it in with the pulled pork prior to serving. The key to this sauce is the simmer time. Help this sauce develop flavors and thicken up a bit by making sure you reduce it a bit.
The Ingredients:
2 cups Cheap Yellow Mustard
1/3 cup Sugar
1/4 cup Brown Sugar
3/4 cup Cider Vinegar
1/4 cup Water
1 T Chili Powder, I like ground Guajillo Pepper but any dark powder will work
2 tsp Black Pepper
1 tsp ground Cayenne Pepper
1 tsp Soy Sauce
3 T Unsalted Butter
Directions:
Mix everything up except the butter in a sauce pan. Simmer for 30 minutes. Stir in the butter and simmer for 10 more minutes.